I went to get the mail today and I had a really fantastic surprise in it. One of my closest, most treasured, longest been friends with friends sent me a fabulous present. Just cause.
The scan really doesn't do the sketch justice. It's beautiful!
Click for larger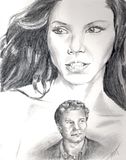 The artist's name is D.G. and I'm the only one (besides her) with the rights to post, redistribute, etc.
Current Mood:
giddy