Well, I've reviewed fics and shows before but I think this is the first time I have ever said that people need to go out and get a graphic novel. As in, don't wait to finish reading this post, go right now to your local comic shop, Amazon, whatever and order your copy of
Soul Stealer
NOW. Go ahead, the review will still be here when you get back.
So you've got it all ordered, right? Good, because when it comes in the mail, beautiful and shiny, you won't be disappointed.
I have to admit that I picked this publication up on a whim.
Michael Easton
, of Port Charles and One Life to Live fame, is actually a pretty decent poet. I had picked up a copy of his poetry book
Eighteen Straight Whiskeys
several years ago and was impressed at the level to which he could write poetry. I was expecting some kind of self-indulgent schlock like the Jewel poetry book but I was pleasantly surprised to find that not only could Easton capture a sort of neo-beat, post-modern vibe with his pieces, that he wrote about what he knew. He wrote about his time homeless, living on the beach. He wrote about addiction, loss, love. So he's not the best actor in the world but I can more than forgive him for it after reading his poetry book. Don't bother looking for it as most copies sell for upwards of $200.00. I got mine in a used book shop and a second copy for a friend in a thrift shop for a few bucks. But I enjoyed reading it (and re-reading it) so much, I would never sell it and make a killer profit.
So back to Soul Stealer. I had Frank, my local comic book guy who is decidedly not overweight, middle-aged, and sporting a ponytail, order me a copy when I heard about it through the soap wire. Soap fans are notoriously loyal but I was a bit surprised when it told me that they would have to order it from TN because they didn't have any places locally or closer that had it in stock. People were buying it. I couldn't be sure if it was just soap fans but I am hoping graphic novel fans are scooping it up as well.
The back of the book describes the story as such: "In a universe divided by good and evil, one man has been able to sustain life for over 3000 years, driven solely by the power of undying love. Armed with the ability to bring back souls from the underworld, he must now fight the most dangerous and potent forces the world has ever known, as he wanders the Earth – through past and into the present – on his near-impossible search for his wife. A shocking and breathtaking journey through darkness, madness, and ultimately hope. Soul Stealer explores a vivid, remarkably unique world drawn from the deepest recesses of human imagination."
I probably couldn't have described it better myself. Now if you think this is just some tragic Romeo and Juliet piece of crap, it is not. There is nothing to suggest that Kalan, the main character, and his wife, Oxania, were ever star crossed lovers, kept apart. Oxania's father, Strabo, actually seems to love Kalan like a son. And the lovers are adults, 25 at least, and settled into what appears to be a very happy marriage. This is true love at its finest, a partnership between two people who share a soul-connection. I'm a sucker for those kinds of stories.
With the inclusion of Gods such as Osiris, Azrael, Seth, to name a few, the story takes on a sort of modern day mythology to it. What happens when one man, one warrior, crosses the Gods to retain his true love? He is punished of course. That is what Gods do best, punish man for their folly. But Kalan's a smart man, to say the least, a general who always knows the movements of the enemy army before they strike.
The most stunning thing about this graphic novel is how so unlike a graphic novel it is. In the introduction, it appears the artist,
Christopher Sky
, did most of the work in Photoshop, as opposed to say pen and ink and a colorist. The use of Photoshop to manipulate what looks like real people and real landscapes lend a gritty realism to the piece. This isn't the crudely drawn blob faces of another comic series I've been reading lately. Another fantastic feature is the absence of text bubbles. The text is written out on the page, in a handwriting font, as if you are looking at a journal in pictures of Kalan's journey through time.
This is only book one of the series. I am not sure how many more are planned. But you can bet that with this stunning artwork and amazing storytelling, I will be pre-ordering my copies from my local comic book guy.
And because the best review for this type of work is for people to see it themselves, I scanned off two fairly non-spoilery pages. Excuse the crap quality because my scanner is old but well loved.
DMF Comics Page for Soul Stealer
Michael Easton's Site
Soul Stealer page on Michael Easton's site
(More amazing images there)
Soul Stealer MySpace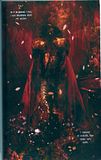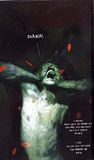 Current Mood:

geeky