Hey everyone!
After almost a month of pimping out the
rerunawards
on Stranger Things AND Angel's Oasis, I finally grabbed the icons and nominated a few authors. I am hoping the other people get in gear and post what stories they like and what category they want them nominated in. Have to spread the love!


I nominated two of my fave authors so far. I am just hoping the other authors that I like get their stuff put on public websites. And I might not be an "official" pimp but I have been harassing people to post on the boards I visit!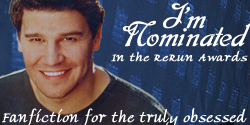 And lastly, I nominated a bunch of Mike and I's fics. So yay us!