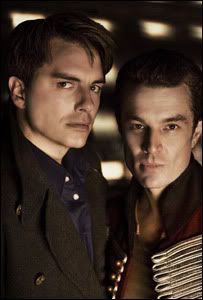 I know I have a lot of JM and Torchwood fans on my flist and I just got linked this:
An interview with John Barrowman
Here's what he had to say about Marsters' second-season guest spot: "There's a scene between he and Jack when they first meet, all I'll say is, this scene is so hot, so horny, so violent, that all the fans who watch it are going to [er, appreciate it greatly]."

I can't put on this site what Barrowman actually said, but trust me, it made the scene sound intensely steamy.
And another
interview with James Marsters
The actor, who starred as a goth vampire in both the cult US series Buffy and its spin-off Angel, said he was "really excited" about his character.

"I can't say too much about him, except he is naughty and a bit of a psychopath," he said.
Current Mood:

curious