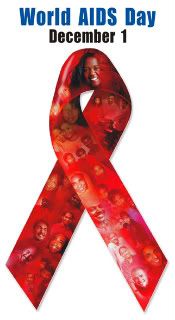 Tommorrow (December 1st) is World AIDS Day. I really hope that everyone out there is helping out in some way whether it's organizing an event, volunteering, or donating money.
If you can't do any of that, then please at least go to your local Starbucks and buy a coffee. I spoke with Starbucks corporate today and it is ANY of their handcrafted coffees. That means if you buy any coffee that the barista makes, they will donate 5 cents to the Global Fund. Millions of people have been helped by The Global Fund and though 5 cents seems like a small amount, it adds up quickly. In a year, Starbucks has generated enough for SEVEN MILLION days of medicine.
DOING GOOD HAS NEVER TASTED BETTER.
Join us in support of World AIDS Day. On December 1, 2009 we're contributing 5¢ U.S. to the Global Fund to help fight AIDS in Africa for every hand-crafted beverage sold!*
In just one year in partnership with (RED)TM, Starbucks has generated enough money to buy more than 7 million days of medicine to help those living with HIV in Africa. Overall, (RED) partners and events have generated $140 million and these funds have supported AIDS programs in Africa that have reached more than 4 million people.
Invite your friends! Every customer can help to make a difference and together, we can do a world of good.
DO EVEN MORE GOOD WITH STARBUCKS AND (RED)™.
Turn any purchase (RED)™ this holiday season by spending $15U.S. or more at participating Starbucks in the U.S. and Canada and receive a limited-time offer Love CD brought to you by Starbucks and (RED)™. The Love CD features exclusive recordings from U2, Dave Matthews Band, John Legend and Playing for Change. And, with each Love CD distributed, we'll contribute $1U.S to the Global Fund.
Learn more about the Love CD, discover exclusive content and see what other (RED) purchases you can make at Starbucks this holiday season and throughout the year at StarbucksLoveProject.com.
Become a fan of (RED) on Facebook and learn more about fighting AIDS in Africa: facebook.com/joinred.
* Excludes ready-to-drink beverages and Ethos® Water and valid only at participating locations in the U.S. and Canada.
Buy (STARBUCKS)RED. Help save lives.
From how we buy our coffee, to minimizing our environmental footprint, to being involved in local communities, we constantly strive to do business responsibly. It's a commitment we call Starbucks™ Shared Planet™ and we're making it a part of everything we do.
That's why we're working with (RED)™ to help fight AIDS in Africa. We have deep relationships with the coffee growing communities of Africa. Their health and prosperity are important to us. (STARBUCKS)RED is an opportunity for us to help them thrive. To use our size for good. And to bring our customers new ways to do good every day.
Together, we're making a difference
Every time you buy a Starbucks (PRODUCT)RED item or pay with your (STARBUCKS)RED Card*, we make a contribution to the Global Fund to help people living with HIV in Africa. With your help, we've already generated contributions equaling more than 6,000,000 days of medicine.
It's amazing what we can do when we work together. So let's keep doing good. Keep buying (STARBUCKS)RED products and help us make the world a better place.
*In the US, Canada, UK and Ireland through December 31, 2010.
No, I don't work for Starbucks. I just think this is something easy and affordable US and Canadians can do to help. Feel free to pimp, link this, spread the word.
Current Mood:

hopeful