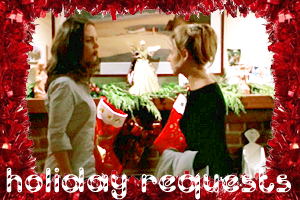 That's right, it's that time of year. I'm going to try to make or do something for everyone that wants something this year. Since my muse has been so damn fickle, I'm having to limit options a bit this year. Under the cut is what I'm offering in terms of presents.
If you could pick at least three things so you can be surprised, that would be great.
What I want is
here
.
- Fanmix (couple, character, general show, etc)
- Mixtape (genre such as rap, country, earworms, etc)
- 10 icons (couple, character, quotes, etc)
- Wallpaper (couple, character, general show, multiple, general. Make sure to give your screen resolution and if you want a specific color scheme)
- Ficpic (link me to the fic or give me the jist)
- Header and matching icon (couple, character, general show, multiple. Make sure to give me the size and if you have a layout picked out you want to work with it)
- Something else graphically related I haven't put here. I can't make videos.
- 1 Five Things Fic (most of you know the shows/couples I write for but I need specifics such as "Five - Times X saw Y Naked" or "Five Houses X and Y Didn't Buy" You know the drill)
- 5 drabbles (give me prompts such as X, Y, skiing)
- Rec List (let me know what you want recc'ed. Will be a combo of fic, icons, videos since I haven't been reading much this year)
- 5 lolcat style macros (let me know the show)
- Screencaps for one movie/tv show episode
- 1 review of a movie/tv show/album
- 5 album uploads (if I can find the albums. Usually not that hard for me)
- 2 burned DVDs of any of my movies (email me for a list)
- 1 knit scarf (need colors)
- 1 knit hat (need colors. Let me know if you want ear flaps or not)
- I know I'm a really private person so here is your chance to ask me 5 personal questions and I will answer them.
The more specific you are, the better.
Like if you have pictures you want used, please make sure they are high res and/or big if you want a wall or a header. Even though these are holiday gifts, I do like to make all my work shareable. If this is a problem, then send me a PM.
I'll probably pimp this out a few times before the holidays so I apologize in advance if I get annoying
Current Mood:

okay