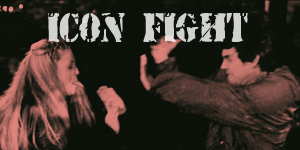 So this has been the week from hell, ending the month from hell and I need something to cheer me up. This is totally inspired by one of the funniest times I've had on LJ, my icon fight with
samsom
over who was more gay for Charisma.
We've all got icons that we love and we hardly ever get to use or show off. Now is your chance. Just reply to this post saying something totally outrageous about me using one of your favorite icons, I will respond with something outrageous about you. We keep going until someone is cracking up so hard, they can't think of anything. Show off those icons with silly posts!
Keep it funny. And if it gets too personal, the code word is "pineapple". That means okay, it's time to stop.
So for instance, Someone might comment with their favorite Buffyverse icon with "Kelly sleeps with a life sized cutout of Charisma Carpenter". I would respond with my favorite whatever icon with "Well, it's not as bad as you sleeping with a life sized cutout of Boba Fett."
You can jump into threads already going or make your own comment. It's a pretty much free for all. If you don't want to do outrageous things, then just comment with a joke or a funny .gif or a macro. Whatever! The idea is to show off your icons.
ALSO! IF YOU WANT BIRTHDAY PRESSIES OR HAVE A REQUEST, I MADE A POST FOR REQUESTS.
PS. It's also FuffyFriday on Twitter. If you have a Fuffy rec, just post it to Twitter with
#fuffyfriday
Current Mood:

silly